¡¡
Opening Addresses
---
Speech By H.E. Mm. Qian Zhengying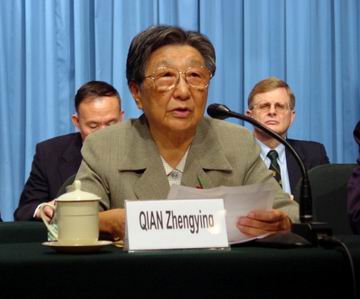 Mr. Chairman, Ladies and Gentlemen:
At the time when ¡°The Second International Symposium on Flood Defense¡± is opening, on behalf of the advisory committee of the symposium, please let me extend my warmest welcome to all the participants abroad and at home.
As it is known, water became one of five broad themes mentioned by the World Summit on Sustainable Development held in Johannesburg last week. Being an important part of water management, flood control system plays an important role for the global sustainable development.
In recent years, flood disasters occurred frequently all over the world, which have caused huge social and economic losses, for example, the 1991 flood in Bangladesh, the 1993 flood in Mississippi River in USA, the 1995 flood in Rhine River and the 1998 devastating flood in the Yangtze River in China etc. Although various kinds of measures have been taken to avoid or mitigate flood disasters, such as heavy investment on flood control construction, there is still an obvious increasing tendency of the frequencies and magnitude of flooding. During the mid August of this year, floods swept central and eastern Europe and caused huge losses in Germany, Russia, Austria and the Czech Republic. Floods also occurred in Yangtze River in the same period.
China¡¯s 5000-years civilization is a history of Chinese people fighting against flood and drought disasters. From of old, a Chinese legend called ¡°Da Yu Zhi Shui¡± describes a tribal headman named ¡°DaYu¡±, who harnessed the Yellow River with the philosophy of ¡°Guiding and dredging the river by the regime of the river, bringing under control both the river and the basin land together¡±. By looking back the history, we still can learn something from this philosophy.
Since the founding of the people¡¯s republic of China in 1949, the Chinese government has led the people to develop water resources on an unprecedented scale and great achievements attracting worldwide attention have been made. Especially since 1998 great flooding in the Yangtze River and the Songhua River, the central government poured vast investment into the reinforcing or building flood-control infrastructure along China's major rivers. For the Yangtze River alone, some 30 billion Chinese yuan (US$3.5 billion) was earmarked during the 1998-2002 period to consolidate the major levees. So far, no major flood-related mishaps occurred along the main levees of the Yangtze, therefore people and their properties were prevented from flood, though the river¡¯s middle and lower reaches was hit by flood crests with rather big discharges and high water levels this year,.
Flood is a natural occurrence caused by abnormal climate, whereas flood disaster is caused by land reclamation on the high-risk zone of floodplains. Three phases can be set in the developing process of the relationship between mankind and flood: first was in the agricultural society era, called ¡°damming water with earth¡±, which reflected a thought of passive defending in a limited area. The second appeared in the industrial society era, called ¡°man can conquer nature¡±, which reflected a thought of comprehensive harnessing and actively controlling. Nowadays, we are facing the third phase in this new knowledge information era, which can be called ¡°living with flood¡±, as the theme of this symposium.
In a densely populated country like China, it has been a historical reality that mankind fighting against flood for a piece of land to survive. China has totally about 1,000,000km2 alluvial river plains, on which located the most prosperous land of the country, however, only with the protection of the dikes and levees along the rivers, lakes and coastal lines that people can survive and develop. The essence of flood prevention is how to manage floods and rationally develop the 1,000,000km2 river plain to achieve the goal of living with floods. On these pieces of land, located nearly half of the population, many important cities and towns with rapidly increasing economy since China¡¯s opening to the outside. It is noteworthy that while people make their effort on levee construction, the space reserved for the passage or storage of floods might be reduced at the same time; and while people developed water resources works in the upper reaches, the relationship between water and sediment might be changed and sedimentation in the downstream floodway might occur. When a flood is too big for the channel to carry or store, the levees would break and flooding appear. In recent years, the phenomenon of low discharge but with rather high water level always occurred during the flood season in the Yangtze River and the Yellow River. It is because of the changes of the basin natural conditions and further changes of the river flood process caused by the unreasonable human activities. Therefore the improvement of strategies on flood control and disaster mitigation has been gradually carried out, from ¡°fighting against floods¡± in and out-of-order and untempered way to ¡°living with floods¡± in an orderly and sustainable way; from mainly the structural flood control system construction to a comprehensive flood control and disaster mitigation system.
The Second International Symposium on Flood Defence held in Beijing brings our Chinese participants a very good opportunity to exchange ideas and learn experience from experts of other countries. I sincerely hope that the symposium will help our friends from abroad to know more about the flood control and water management in China, and our Chinese participants will have a deep and comprehensive understanding of state-of-art theories and technology state of art, and effective practices abroad. Let us work together for the sustainable social and economic development with sustainable water resources utilization.
At last, wish all the participants and our friends have a pleasant journey in China.
Thank you!
---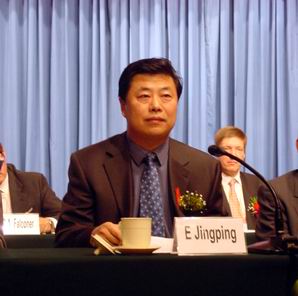 Distinguished Guests, Ladies and Gentlemen:
Today is the opening of the second International Symposium of Flood Defense and on behalf of the Ministry of Water Resources and the Headquarter of the State Flood Control and Drought Relief of China, I sincerely wish to extend my warm welcome to all the Guests!
The Symposium will undoubtedly improve the level of the solution of flood disaster, for it has attached so many world famous experts and scholars and will discuss the task of solution to the water-related disasters.
The regions that were threatened by flood, especially along the lower reach of the rivers in China, have always been the elite areas where the population is relatively large and the social wealth is relatively centralized and has played a very important roll in the development of social economics. As a result, the flood disasters of the rivers are regarded as the ¡°serious trouble¡± of our country.
It is the long-established ideal for our nation of reducing the water-related disasters and ensuring the security of social development. From the time that our ancestor Dayu had fought against the flood, we have strived for it for over 4000 years. Obviously the brilliant ancient civilization and the modernized construction have a close relationship with the great task.
Since the passes 50 years, our government and our people have made great efforts to prevent the water-related disaster and ensure the social economic development. Over 200,000- kilometer embankment, 80,000 reservoirs, and 100 flood detention districts have been constructed and as a result, the flood defense system that can control the common flood has been achieved.
In the first 30 years in the 21st century, the population of China will be 160 million, the rate of urbanization will be up to over 50percent from 30 percent now, and the social wealth of the flood-threaten regions will be more centralized. It will be a great issue for the social continuous development of China for how to reduce the disaster of flood and the relative consequences.
The successful experiences and deficiencies in history shows that, for such a country as China that is facing great threaten of population, development and environment, it is necessary but not sufficient and consummate to control a certain measure of flood moderately through engineering measure. After the flood in 1998,we are gradually coming to the agreement and change on the following prime ideas: that is, Instead of attempting to eliminate flood, it is advisable to endure some risks within measure to realize the coordinated development of disaster-reduction and social economics; Instead of preventing the violation of flood to people, it is important to prevent the violation of we people to water at the same time; Instead of focusing on the construction of flood defense project, it is critical to attach importance to the non-engineering flood defense measure ,to insist on scientific management and to control water with law; Instead of regarding flood totally as disaster, it is accepted that it also has the function of providing resources and improving the ecological environment; Instead of purely fighting against flood, it is wise to reasonably adjust the relationship between people and flood when the life security is ensured; Instead of purely preventing and draining flood, it is effective to emphasizing on the complex administration of the flood risk region at the same time.
The realization of these change is depend on many preconditions such as the formation of concept on disaster reduction which is adapted to the new position; the continuous innovation of disaster reduction theory; the exploitation and exertion of new scientific disaster reduction technique; the close cooperation of the research and the practice of disaster-reduction; the continuous development of the research level and group, and the international exchange and cooperation.
Although there are some differences in case of the situation of countries, many countries, no matter the developed or developing countries, are facing the embarrassment of water-related disasters.(For example, the flood in Europe this year) They have many good points on the experiences, deficiencies, ideas and techniques in flood-reduction practice for us to use for reference. Actually, many ideas and techniques that we are using now, such as the theory of continuous development, the harmonious coexistence between human and nature, and the complex flood management and decision-making supporting system, are all to some degree, learned from others. All the ideas, theories and techniques that will benefit our disaster-reduction career should be carefully studied, introduced and absorbed into the research and practice of disaster reduction according as our country condition to improve the development of our flood defense and disaster reduction career. At the same time, we will set out our fruit to the whole world to contribute to the international disaster reduction career.
It is my great pleasure to see that, in these essays for exchange in this Symposium, many experts and scholars are concerned of and discussed China¡¯s flood problem and give out their ideas and advices. I hope that here by this chance I can give my sincere thanks for them.
It is hopefully that experts and scholars could study more about China¡¯s flood problem and give counsel for us, and also, the experts from China pay more attention to that of other countries and the research trends of international anti-flood and disaster-reduction, so that we could further strengthen the exchange and cooperation, promote understanding and thus make greater contribution to the development of the research.
I wish the Symposium a great success and all guests¡¯ good health.
Thank you !
---
Speech By Prof. Erich J. Plate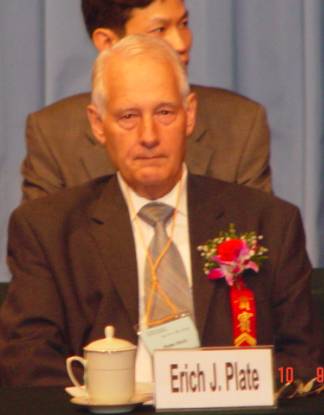 Ladies and Gentlemen,
It is a pleasure to be again in this great city of Beijing, where the signs of rapid progress into a new era are seen everywhere. And where it is most appropriate to speak of water. Water has become one of the leading topics of the beginning century. Water is the lifeblood of sustainable development- no development can be sustainable if there is no or not enough water. But neither can development be sustainable if it is continuously endangered by extreme floods. Water supply stability is a necessary condition, but so is safety against floods.
We seem to see an increasing threat from large floods to the development of countries, as is made evident in the large flood events since the nineties of last century: the large floods on the Rhine in 1993 and again in 1995, the Mississippi flood of 1993, the floods on the Yangtse in China of 1998. They were first indicators of what appears to be a change in the global weather pattern: since then, South Africa and Mozambique in 1999, the Mekong floods of 1999, 2000 and 2002, to name but a few: flood disasters of ever increasing magnitude have struck almost all parts of the world. In Germany we experienced the enormous once every few hundred year flood on the Odra river in 1997, and the Elbe region has just suffered the worst flood in history, with financial damage which might reach more than 20 Billion US$.
In response to these large floods we have to rethink our approach to flood problems. We must get away from the concept of fighting the floods to the concept of flood management. It is no longer possible to protect against floods of all conceivable magnitudes, but we must learn to live with the floods. This means that we have to develop methods to see flood protection through technical means as one only of many possible approaches to flood problems. Technical measures such as dikes and polders, non-technical measures such as returning flood plains to the rivers, land improvement measures such as reforestation are to be considered as part of a more comprehensive flood plain development. Comprehensive flood plain management is a task which must optimize the whole social, economic and technical development, giving due regard to ecological considerations as well - and which includes to be able to handle extreme floods and be prepared for them. Prepared through good forecast and good warnings, as well as through good planning of what to do when the floods cannot be contained. Flood management has become a multiobjective process, with an interdisciplinary scientific basis, involving engineers, and natural scientists, and also contributions from legal, medical and social sciences. But it is first of all an organizational and administrative process, involving managers and administrators, and most importantly, it must also involve the people, who might suffer from the flood.
And finally, integrated flood management should be understood as a process which develops in time. For a truly sustainable flood management, every generation is challenged again to reconsider the options and to develop the tools according to the technical means, the value system of the society, and the financial resources available at the time. And the large engineering societies must become leaders in this process and provide the scientific basis for it. IAHR, which is the leading hydraulic international engineering association, pledges its support to these goals, and it is my pleasure to bid the greetings of president Holly and the members of IAHR to this conference. We expect this conference to give advice to scientists and administrators on the direction for what has to be done to make a world, which learns to live with floods, and to provide leadership for a better approach to flood management. Let us hope that we have a successful and fruitful conference.
¡¡
---
Speech By Prof. Kuniyoshi Takeuchi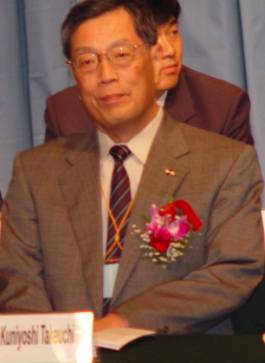 Your Excellencies, Distinguished Delegates, Ladies and Gentlemen:
On behalf of International Association of Hydrological Sciences, I would like to express my hearty congratulation to the successful opening of the 2nd International Conference on Flood Defense. I appreciate and respect the great efforts the Local Organizing Committee made for this excellent planning and preparation.
The world is now in transition to a warmer climate. A number of extreme meteorological phenomena have been experienced every year and everywhere. Especially floods are occurring all over the world including European and arid and semi-arid countries that have seldom experienced such extensive floods before. This year again, a series of flood disasters have occurred or have been occurring all over the world. Just a few examples of them are, from preliminary reports of an NGO ¡°Rivers and Water¡± on 21 and 23 August issues:
・ In Hunan Province, since August 10, more than 5 million people affected by floods. Especially in Dongting Lake, the water elevation exceeded by 2 meters the warning height, and 600 000 people evacuated by August 22.
・ In Yunnan Province, from July 30 to August 17, due to a devastating flood, 106 died and 72 missing, 27 000 affected and 13 000 evacuated.
・ In Europe, August floods killed at least 58 in Black Sea, Russia, 11 in Germany, 11 in Czech and 7 in Austria; 111 people altogether by August 21. By August 16, 300 000 evacuated, of which 200 000 in Czech and 130 000 in Germany.
・ In Nepal, since July 13, 424 died and 173 missing by floods and landslides. 32 000 lost houses and 250 000 affected.
・ In the Eastern Himalayan Foothills, India, more than 15 million people were affected by flooding of 2.47 million acres of corn fields.
・ In Assam region, India, more than 109 died and more than 5.35 million people lost houses since July. On August 21, in Madhya Pradesh Province, a 125 year old dam collapsed and 75 people missing.
Ladies and gentlemen:
They are just some examples of floods this summer. They are serious but, in fact, nothing comparable with such huge human losses occurred in 91, 94, 96 and 98 in China or 91 in Bangladesh. We know that the devastating floods have been increasing and intensifying since late 1980s. We know that the number of people died of floods is more than any other disasters. We are now living in the world of intensified climate variability. We have to defend ourselves by living with floods. Yes, human being has been living with floods ever since our birth. We can live with floods. The history shows the evidence. That is the fact: Floods never destroyed civilization.
All four ancient civilizations of the world originated along the big rivers, the Yellow Rivers one of them and the one still very prosperous. People living in those four rivers suffered from floods very seriously. Yet the civilization never got destroyed because of floods. Rather they invented science, technology and efficient governance mechanism through living with floods. Most of civilizations were destroyed because of salinization but not by floods. Floods are a source of prosperity when they are properly managed. Mankind is capable of living with floods.
Ladies and gentlemen:
It is especially meaningful to have this Conference in Beijing, near by the Yellow River basin where Chinese people have been experiencing ¡°living with floods¡± thousands of years. Let us mutually learn the way of flood defense, utilizing the new opportunities available to us applied to new form of society. With new science and technology and new societal needs, we have to seek for a new relation with floods. The relation between floods and society is a never-ending evolutional process.
I believe we have very fruitful discussions and a great success of the Conference.
---
Speech By Prof. Hein T. C. van Stokkom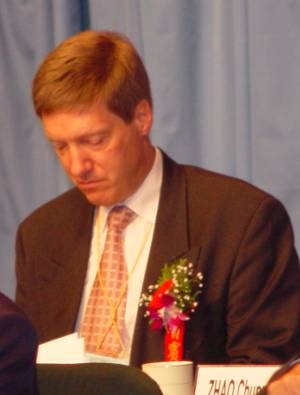 Your Excellencies, Mister Chairman and members of the Organising Committee, ladies and gentlemen,
On behalf of the Ministry of Transport, Public Works and Water management in the Netherlands I would like to extend a warm welcome to all distinguished guests, delegates and participants of this 2nd International Symposium on Flood Defence. I would like to compliment the Government of the People's Republic of China and the Organising Committee for facilitating and organising this symposium on such an important and actual topic throughout the world. I am honoured to address you at the beginning of this conference as a river and water manager, but also as a citizen of the Netherlands, a highly populated country which is criss-crossed by rivers and lies for about half of its area under mean sea-level (up to 7 meters below).
All over the world rivers and water are of vital and existential importance to the world's ecosystem and the creatures living on this planet. Rivers in many dimensions provide drinking water, but also water and fertile soils for agriculture, provides energy, offer opportunities for transport and economic usage. A tremendous amount of people, especially in the densely populated and fertile deltaic parts of rivers, benefit of these characteristics.
At the same time, both water and rivers pose threats to these populations if the water is too much, too little or too polluted. Among these the issue "too much" has rightly gained special interest over the last decade due to the increased number of severe river floods in different parts of the world and the casualties, damage and despair they caused. There is hardly any need to recall these floods at this moment since last month large parts of China and Central Europe suffered from flooding[1]. In the last decade floods occurred in Mozambique, USA, Germany, China and India/Bangladesh. In the Netherlands we have dealt with a near flood in 1995 (rivers Rhine and Meuse) making the evacuation of 200.000 people necessary.
Respective governments took immediate action in disaster mitigation, developed flood management strategies and made plans for measures coping with flooding and preventing casualties and reducing potential economic losses. As flood defence has been an issue over many, many centuries it is nowadays, due to the characteristics of present society, an important issue and leads to an intensified international governmental and scientific co-operation.
Considerable progress is achieved in this respect. Following the Second World Water Forum (The Hague, 2000) international co-operation is intensified. For instance, eight river basin organisations signed a Declaration of Intent on the formation of Twinning Arrangements[2] between these organisations. Furthermore, the Netherlands has signed bilateral Memoranda of Understanding on Water Management with several countries, including China, Argentina and Vietnam. During the Third World Water Forum next year in Kyoto, Japan progress will be reported.
Against this background I would like to take the opportunity to make some remarks. Hopefully this stimulates thoughts and discussions and possibly will add some issues to the international scientific agenda.
For centuries countries all over the world have suffered of flood disasters and acted according to the socio-economic and political context of the respective moment. The main strategy of flood management was fighting the floods and taming the rivers e.g. by river regulation and by constructing higher dikes and dams. During the last (half) century, characterised by a rapidly growing population, economic and industrial development, changes in land-use, urbanisation and changing society values, this strategy declined to be sufficient and adequate.
Therefore, we have to adjust these traditional flood management strategies. We will have to learn from the, at present anticipated, "mistakes" of the past. We need thorough understanding of the river systems and flood disaster characteristics related to human activities, spatial use and evolutionary trends and recognise that purely technical and engineering measures will be insufficient. In this respect the impact and long-term effects of climate change should be taken into account. Future flood management strategies should include water regulation measures, reducing vulnerability (e.g. by adequate maintenance of structures), adequate monitoring, forecasting and early-warning systems, evacuation procedures and moreover focus on active public awareness. Public awareness and support will provide the basis for political decision making and respective funding of implementing the flood management strategy and measures. But public awareness is also indispensable in case of planned evacuation and controlled flooding.
In implementing and operating this strategy it is evident that issues like risk management, cross-border river basin co-operation, scientific research, technology and education are of vital importance. Depending on the different countries restructuring of the river and water management institutions and governmental bodies involved could be necessary. In developing such a strategy the entire river basin, including catchment area and tributaries, is to be incorporated. In my lecture I will address a strategy and approach more deeply applied to the Netherlands.
The challenge of such a future flood management strategy is to work hand in hand with the river, taking advance of the strengths and natural power of the river system. In stead of adjusting the river to the desired use, we will have to adjust and tailor the spatial planning, (economic) use and human behaviour to the river. I would call such a strategy an integrated sustainable flood management strategy. This approach will cope with the flooding issue and, moreover, challenge transportation technology and logistics, physical planning concepts, building technology, dynamic river management, et cetera.
I stressed the importance of an adequate flood management strategy for many countries and river basin authorities throughout the world. The Netherlands recognises this importance and emphasises the benefits of international co-operation between scientists and authorities in order to provide our peoples flood protection, opportunities for socio-economic development and a sustainable future. Therefore, I am very pleased to announce on behalf of the Vice-Minister of Transport, Public Works and Water Management that the Netherlands is willing to host the Third International Conference on Flood Defence in the Spring of 2005.
I wish you a highly productive and inspiring symposium.
Thank you for your attention.
---
Speech By Mr. Richard Reidinger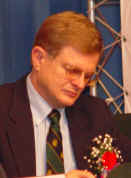 ---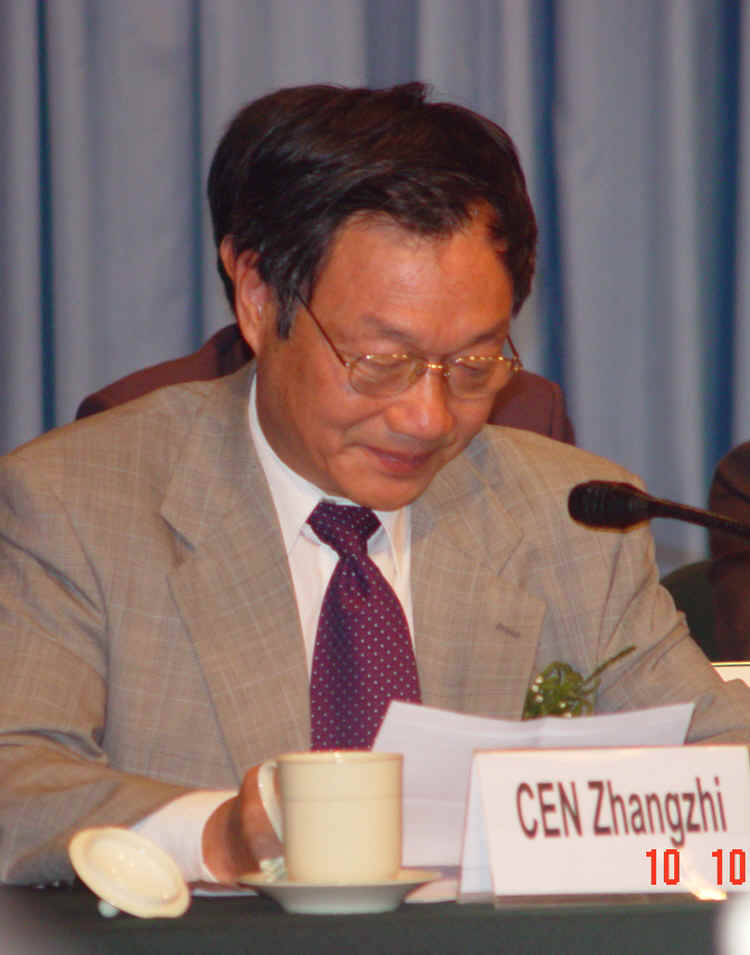 ¡¡
---
¡¡